Our hotel for your event
Not your typical seminar hotel
Located between Lake Constance and The kings castle "Neuschwanstein" (both about 1 hours drive) in the middle of the German Alps (Allgaeu) with fresh air and a lot of quietness. The ideal place to relax, celebrate or work.
We are no typical congress hotel and no typical hotel for private parties. But this is exactely it. We are not standard and most of our past guests enjoyed this a lot. Especially our spacious spa area, our delicious food, the nostalgic ambience and the various outdoor activities make us something special.
Our guests are inspired by our spacious wellness area, our delicious food, our nostalgic ambience, and the numerous possibilities for outdoor activities.
Find here all the information you need to plan your event in the beautiful Allgäu.
Our "Hofjagd-Stube"
(Hunting room)

Our large hall is muti-talented. For meetings, it ofers plenty of space for a variety of seating possibilites with a maximum of 100 people. It can be beautifully decorated for anniversaries.
Restaurant, function room with daylight
small stage (e.g. musician). Music is allowed until midnight.
Dance floor
Beamer (hanging from the ceiling) and screen (behind the stage)
Total area: 240 sqm on two levels
Please talk to our maitre d' regarding seating ideas and more.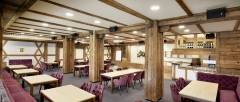 Hofjagdstube - for workshops and events
We are able to provide various seating models.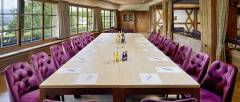 Hofjagdstube - Balcony
Ideal place - part of Hofjagdstube -for smaller weddings and events. This combines the special atmosphere with the perfect view.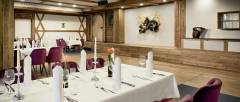 Hofjagdstube - romantic setting
Nostalgic room with old wooden walls and hunting decoration. Events up to 120 people.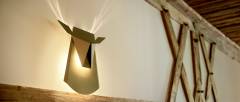 Hofjagdstube - romantic
Cozy atmosphere thanks to old wood walls and hunting decorations. Perfectly suitable for events up to 100 people.
Majestic meetings

and culinary pampering
Our Ritterstube
(Knight's room)

It is the perfect room for smaller weddings and events as it offers space for max. 30 pers. with a buffet and 35 pers. with a served menu.
Restaurant, function room with daylight
moveable beamer und built in screen available
small chimney (just optical)
Total area 80 sqm, conference space approx. 50 sqm
For relaxed conversations

A cozy atmosphere in the fireplace room
Enquire about an event or seminar
Feel free to contact us
We do everything to make your conference in the Allgäu successful or your event unforgettable. We will be happy to assist you at any time with questions and requests.