Our wine philosophy
Selected wines
Wine is an important part of a pleasureable life. For us it is a nice and challenging task to select the wines for our wine menu. Each wine is there for a reason and we all tested them ourselves - something we did with a lot of self-sacrifice ;-) No worries we do not expect your pity, we gladly did this for you.
The most important part of our wine menu are the German wines. In the past their reputation was quite bad, meanwhile German wines are excellent. We tried to have examples of all big wine areas for you to taste. We completed our porfolio with alpine wines from Italy and some international wines which are strong and full of character.

Wine selection Vineyard
A small selection
All our wines are vintage wines (if not noted differently).
Germany
2021 Virginia "Erste Trauben": € 32,-; Sauvignon blanc, dry, 13 % Vol., Privatkellerei Hirsch
2021 Justinus K: € 30,-; Justinus K, dry, 14 % Vol., Staatsweingut Weinsberg
2021 Korber Berg Goldadler: € 47,- ; Pinot gris, dry, 13,5 % Vol., Weingut Zimmerle
2021 Rosé Saignée: 32,-; Lemberger, Shiraz, Cabernet Sauvignon, Merlot, Cabernet Franc, Pinot Noir, 13,5%, dry, Privatkellerei Hirsch, Leingarten
Germany
We are very proud to be able to offer you wines which are especially awarded by the "German Red wine award".
Winners:


2018 Syrah Reserve: € 50,00;  Syrah, dry, 14 % Vol., Collegium Wirtemberg

2019 Lemberger Edition "P": € 40,00; Lemberger, dry, 14 % Vol., Fellbacher Weingärtner, Fellbach

Tasty other red wines
2013 Untertürkheimer Gips, Marienglas (Württemberg): € 52,-; Pinot Noir, dry, 13% Vol., "Großes Gewächs", Weingut Aldinger
2015 Syrah Hades: € 49,-; Syrah, dry, 13,5% Vol., Staatl. Weingut Weinsberg
2019 Saint Laurent: € 33,-; Saint Laurent, dry, 13 % Vol., Collegium Wirtemberg
2019 Merlot Grossheppacher Steingrüble: € 35,00; Merlot, dry, 13,5 % Vol., Weingut Bernhard Ellwanger, Weinstadt-Großheppach
Italy
2020 Santa Christina: € 32,-  Sangiovese/Merlot, dry, 13,5% Vol., IGT, Toskana
2017 Brunello di Montalcino "Castello Banfi": € 65,-  Sangiovese, dry, 15 % Vol., DOCG, Catello Banfi
2013 Messorio, Le Macchiole: € 350,-  Merlot, dry, 15 % Vol., Le Macchiole, Toskana
France
2016 Châteauneuf-du-Pape, Domaine de Saint Paul: € 49,-; Cuvée (Grenache, Syrah), dry, 14,5 % Vol., Domaine de Saint Paul Châteauneuf-du-Pape
2012 Château Moulin Haut-Laroque: € 119,-; Cuvée, dry, 14% Vol., Château Haut-Laroque, Fronsac
2011 Clos de la Roche: € 1200,-  Pinot noir, dry, 13,5 % Vol., Armand Rousseau
Spain
2020 Valle de Oron: € 29,-  Tempranillo, dry, 14 % Vol., DOP, Bodegas Familia Chavarri
Rare ones
Sassicaia 2018 € 349,- ; 

14% Vol., Tenuta San Guido Bolgheri, Toscana
Ornellaia 2018 € 319,-; 14,5% Vol., Tenuta dell'Ornellaia Bolgheri Superiore, Toscana
and many more...


Wine from our vineyard

Exclusive pleasure
Our vineyards
The history of wine from Bad Hindelang
Since January 2011 we are allowed to have a vineyard with 100 sqm - but only for own consumption. What started with a sponaneous idea in the year 2008 did result in outraged authorities.
All started with 10 vines, which were planted on hotel property. We ate the grapes ourselves. This story was taken up by an Allgaeu webpage in December 2010, with a little wink: "Germany's highes vineyard is located in Bad Hindelang." A couple of weeks later we received highly offical mail. The subject was: "Hearing regarding a vineyard which is not approved". A very clever employee saw the article and noticed that our vines are not registered in their archive. The further text of the mail told us to clear the site or register it (if it is not more than 100 sqm) as hobby vineyard. 
If we offered grapes or grape-products to others (even for free) this might lead to a fee or even up to three years of prison. At first we were very scared - than we decided to register our vineyard and talk about it. As people love funny little stories like this it was printed in many articles and broadcasted on radio and tv all over Germany.
Shortly after we founded an organisation of wine-growers in the Allgaeu and nominated three "Wine Queen". We are still applying to make the Allgaeu a registered wine-growing area. This is the only way to be able to give away and sell our grapes or our own wine.
By the way: We have been producing wine for a couple of years now and sell it at the hotel only. Certainly we still need to learn a lot, but it is already quite nice - and very, very rare...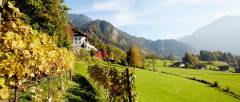 Our vineyard
500m² south-facing slope directly next to the hotel - sun-drenched and therefore the wine is not "acidulous".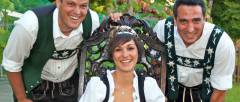 Katharina I - our first wine queen
On the day of the coronation with Armin Gross (Hotel Prinz-Luitpold-Bad) and Markus Rainalter (Hanuselhof).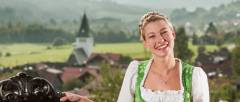 Hannah I - our second wine queen
With a wonderful view over Bad Oberdorf and a dirndl from Trachten Schaber. Many thanks for the donation.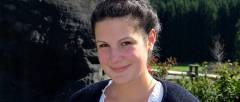 Katharina II - our third wine queen
On her coronation day with the two founders of the Oberallgäu Winegrowers' Association.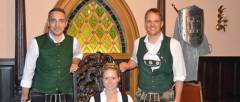 Lisa I - our fourth wine queen
Also taken on the day of the coronation with Markus Rainalter (left) and Armin Gross (right) in our beautiful Ritterstube in 2017.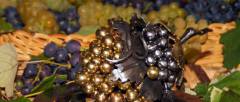 Metal grapes
A gift from the blacksmith Lanbacher, who, by the way, also made our wonderful crown.