Spacious Prinz-Luitpold-Spa
Wellness area Prinz-Luitpold-Spa
Wellness in bavaria means: Fresh air, mountain view and relaxation. Cuddle yourself into your bath robe and take a little walk to our broad wellness area.
You'll be impressed by our fantastic view into the Bavarian alps as soon as you enter the indoor pool area. This effect will last while you explore the rest.
Our pools
Three pools = three times mountain view. And one pond for the brave ones. This is the way wellness should look like.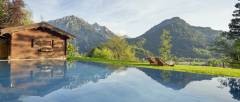 Outdoor pool - refreshing in summer and winter
Our wonderful, heated outdoor infinity pool can rival any swimming beach: wonderful panoramic views of the Allgäu mountains, spacious sunbathing areas, and even heated in winter, you can enjoy wonderful outdoor swimming all year round in this hotel swimming pool.
If the pool should ever be closed in winter, you can simply open it with the button near the entrance.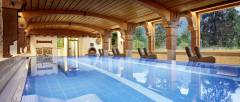 Our indoor pool with in-house spring water
With a massage lounger to relax. The highlight: This swimming pool is filled with 31°C warm sulfur water, which comes from our spring. The penetrating odor typical of sulfur springs is leveled in the bath by elaborate ventilation systems. However, the harmonizing and at the same time invigorating but above all healing effect of this special water remains clearly noticeable.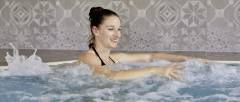 Jacuzzi
Enjoy a relaxing bath in our indoor whirlpool with a view of the mountains. Let the warm water wash over you and feel the light massage of your muscles by the water flowing out.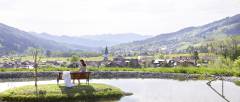 Our pond
We call our pond, which is filled with our spring water: Schrecksee 2.0 (like the most famous mountain lake in Hindelang). Its location is almost as good and its almost as cold. Are you brave enough to get to the island in den middle?
Our relaxation areas
We offer a wide range of different areas to relax. We are sure you will find a place to relax.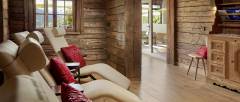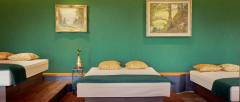 Green salon with waterbeds
Quietness & mountain view to relax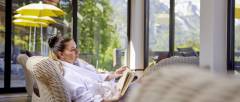 Recamieren am Whirlpool
Ein bisschen königlich relaxen.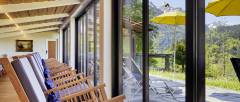 Rocking chairs
There is nothing more relaxing...
Panoramic relaxation room
Relax and enjoy the beautiful view.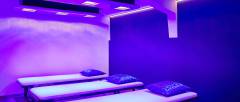 Blue salon with sun beds
Enjoy the warmth of our artificial suns.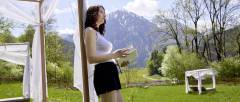 Daybeds with pond view
Our day beds invite you to read, sleep or dream. Or just enjoy the view. Choose your favourite: Mountains or pond.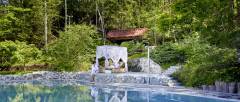 Sun terrace & day bed
With mountain view.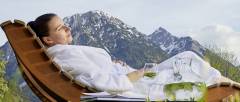 Deck chairs at outdoor pool
Warm up and enjoy the sun.
Pure relaxation

Enjoy the warmth
Three saunas and one laconium
In the wellness area
Our wellness area offers two saunas and one steam bath (currently a sauna as well), all - women and men. These are to be used without textiles. And one sauna to be used with textiles (at the end of our "Refugium").
All saunas are heated by a stone oven. The wooden walls and ceilings reflect the heat. Humidity is around 10-30%. Depending on your position temperature is between 60 and 90 degrees celsius.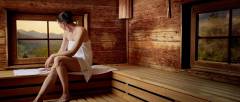 Outdoor sauna
Big Finnish sauna with mountain view into the Bavarian alps. Opening hours: daily 11 a.m - 9:30 p.m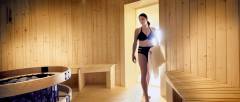 Sauna with cloth
For all who love to go to the sauna with bathing clothes on. daily 11:00 a.m - 9:30 p.m.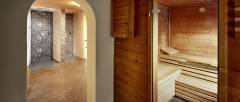 Sauna with colours
Smaller Finnish sauna with colourful light effects Opening hours: daily 8:30 a.m. - 8:30 p.m.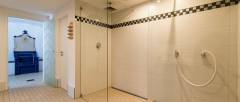 Our Lakonium
Relax in our 60 degree sauna. The ideal place for sauna lovers which prefer decent heat. Opening hours: 3:00 a.m - 9:30 p.m
Luitpold's health area with infrared sauna
Modern kneippen
With kingly cooling room (closed due to Covid-19), infrared sauna (closed too), kneipp infrastructure and more.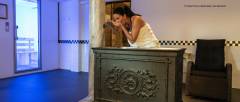 Kingly cooling room
call it the "evil" sauna. Inside it is really cold, after getting out you are feeling very hot.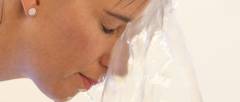 Kneipp infrastructure
Kneipp was a German doctor who invented methods to stay and get healthy. We offer all you need to test the concept: arm baths, foot bath (warm or cold water) and facilities for special Kneipps splashes.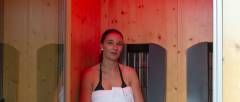 Overview incl. infrared sauna
The special feature of a infrared sauna is deep gentle heat (30 degrees celsius) at the push of a button. It is the ideal sauna for people who dislike the heat of a normal sauna or prefer to use it with textiles.
Our wellness offer
Stay a while in the Allgäu
Here you will find all offers with an overnight stay dedicated to your relaxation.